SAN PEDRO DE ALCANTARA / MARBELLA: Elegant villa with pool / reformed 1.180.000 euros / 998000 euros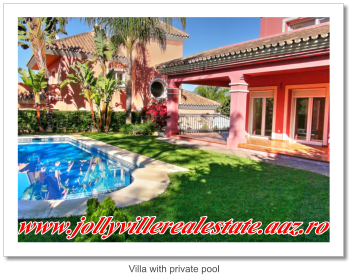 Benahavis - Amazing property with lightful architecture, plot 2345 sqm , house app. 404 sqm , 5 bedrooms, 4 bathrooms, open & ample kitchen dining area, covered terraces, garden with pool & 100% privacy, offroad parking & ample garage...
The property is situated in a quite residential area with very good connection to all directions. It is only a 5 minute drive to the centre of San Pedro de Alcantara (Marbella) and a 10 minutes drive to the fantastic beaches; golf courses are close by.
If you like this property, please ask us for more details..
For more details, please get in contact with me:
Florela Petculescu + 40724677484 / + 393888032906
jolli_ville@yahoo.com
www.florelapetculescu.portofoto.ro

#luxury villa#for sale#your personal broker#your personal Property Shopper # Spain#France#Roumanie
---
POSTAT DE

Florela Petculescu
Sell / buy / rent apartments, houses, villas, commercial, office, residential, hotels, hos...
Bucuresti